The company started as Takasago Heating Works Co., Ltd. in 1923, and up to the present day has made its livelihood "air conditioning equipment construction and peripheral fields." We have continued to take on challenges in advanced technology as professionals trusted by customers and pioneers of optimum systems and equipment.
Setting our sights on achieving a decarbonized, sustainable society, we are striving to further advance and develop our technologies aiming to be an "Environmental Creator" that provides one stop services covering everything from design and construction to maintenance, operation management and refurbishment.
Since the company's establishment in in 1923, our business objective has been heating-related work, starting with "Entertainment Hall Audience Seating Cooling (Mitsukoshi)" and "Whole Building Heat Pump Air-Conditioning (Kyoto Dento)," and up to now we have built numerous air conditioning equipment for renowned buildings.
Since 1960, when air conditioning became commonplace, we have achieved the No. 1 position in the construction industry, providing comfortable air conditioning systems to buildings such as the World Trade Center and other skyscrapers and department stores, high-quality air conditioning systems to buildings such as the New National Theatre, Tokyo and the National Art Center, Tokyo, and large volume air conditioning systems to buildings such as Tokyo Dome and Kyoto Station. In addition, we also worked on the Osaka World Exposition venue and Shinjuku subcenter, the world's largest district heating and cooling systems.
Meanwhile, we have a strong track record in providing air conditioning for a wide variety of industrial processes, starting from temperature and humidity adjustment in a pre-war rayon factory (Teijin Iwakuni), working on large-scale clean rooms for manufacturing electronic parts such as LSIs and LCDs and pharmaceuticals since 1970, and recently, working on dry rooms that are indispensable for the battery manufacturing process.
We will continue to work as a reliable professional for new construction or refurbishment, responding to customer's needs in every era.
Topic
Japan's first heat pump heating facility
Mr. Yanagimachi, our first president, went on a business trip to the US in 1929 and met with Prof. W.H. Carrier. They discussed the possibility of a heat pump based on a turbo chiller and Yanagimachi strengthened his intention after the very promising answer from Prof. Carrier. After returning home, Yanagimachi advanced the practical research, and in 1932, he installed a system in the Murayama residence, a 230 m2 two-story wooden house in Mikage Town, Hyogo Prefecture. This was the first heat pump-based heating system to be built in Japan. The refrigerator capacity was a 2RT ammonia refrigerator. In the nighttime, the bedrooms on the second floor (about 60 m2 in 3 rooms) was heated or cooled, and in the daytime, the duct was switched and the living room on the first floor (about 100 m2) was heated or cooled. (Source: "The 50-Year Journey of Tasago Thermal Engineering" 1974)

When the company was first established, it had no choice but to import air conditioning equipment, and Article 3 of our Articles of Incorporation listed "Import and sales of heating equipment and other foreign products." However, in order to build equipment that truly satisfied its customers, the company had no choice but to build its own machinery and tools.
The company developed numerous products including the Takasago Ebara Turbo refrigerator - the first domestically-produced product built in 1930 - air washers, Sirocco blowers, and cooling towers.
Takasago developed a number of systems and items of equipment in response to the demand for individual control of air conditioning. These include the water heat source HP (heat pump) system PMAC® developed in 1971, the ice thermal storage system SIS® (super ice system) for electrical power leveling, the clean room system TCR-MP® that responded to the needs of the industry, and the energy saving type dehumidifier WINDS® for dry rooms.
The spirit of the founder of "If we cannot find a good product we will make it ourselves" has been handed down to the present day.
Takasago EBARA Turbo Refrigerator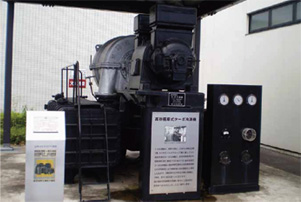 We worked with Ebara Corporation to develop this refrigerator, and successfully achieved the first domestically-produced unit in 1930. The first unit was installed in Osaka Asahi Building in 1931, and was subsequently followed by many units installed at department stores, theaters, factories and other facilities. It was certified as The Japan Society of Mechanical Engineers' "Machinery Heritage" in 2010, and as the Japanese Association of Building Mechanical and Electrical Engineers' "Building Equipment Technology Heritage" in 2014. The turbo refrigerator in the photograph was delivered to the Konishi Roku Roku Sakurasya Hino Factory (currently Konica Minolta) in 1937 and was used until 1974 when equipment was replaced. Today, the Takasago EBARA Turbo Refrigerator is located at our Innovation Center where it is exhibited.
3. As an "Environmental Creator"
We have always led the industry in providing equipment for creating comfortable spaces that customers require along with changes in society, such as air conditioning equipment for comfortable office environments, industrial air conditioning equipment that makes full use of advanced technology which is indispensable for the manufacturing industry, energy conservation and CO2 reduction technology for the preservation of the global environment, and as a service provider.
Within this, in 2012, our datacenter energy-saving air conditioning system "IDC-SFLOW®" won the "Green IT Award" Special Award and "SWIT®" received the Agency of Natural Resources and Energy Director-General Award at the "Energy Conservation Grand Prize." In this way, our technology goes beyond the normal confines of the industry and has been highly appreciated from the perspectives of environment creation to operation.
Through further development of the technologies we have accumulated, we aim to become an "Environmental Creator" by bringing together the strengths of the Takasago Thermal Engineering Group as a whole, operating as a global company, and providing solutions and consulting from the customer's point of view.
1923
November
Established as Takasago Heating Works Co., Ltd. taking over all rights and obligations from the Heating Works Unit of the former Takasago Industry Co., Ltd.
1943
July
Company name changed to Takasago Thermal Engineering Co., Ltd.
1949
March
Opened Osaka Branch
October
Completed registration (A) No. 558 with the Minister of Construction under the Construction Industry Act. (Registration renewed every two years thereafter)
1952
March
Opened Sapporo Branch Office. (Promoted to a branch in April 1968)
August
Opened Nagoya Branch Office. (Promoted to a branch in March 1959)
1959
February
Opened Kyushu Branch Office. (Promoted to a branch in April 1972)
1967
April
Opened Tohoku Branch Office. (Promoted to a branch in April 1973)
1969
November
Listed on the Second Section of the Tokyo Stock Exchange.
1971
November
Listed on the Second Section of the Osaka Stock Exchange.
1972
March
Established Nippon Development Kosan Co., Ltd. (Currently a consolidated subsidiary)(April 2021 Company name changed to Hucoss Co., Ltd.)
April
Established Nippon PMAC Co., Ltd. (Currently a consolidated subsidiary)
September
Established Nippon SF Co., Ltd. (April 1978 Company name changed to Nippon Flect Co., Ltd.)
1973
August
Listed on the First Sections of the Tokyo and Osaka Stock Exchanges.
1974
December
Received permission from the Minister of Construction under the Revised Construction Industry Act (Special, General -49) No. 5708. (Permission renewed every three years thereafter)
1980
April
Opened the Overseas Business Headquarters. (July 1983 Reorganized into the Business Department. Promoted to Business Headquarters in September 2005. Currently International Business Headquarters)
November
Established TTE Engineering (Malaysia) Sdn.Bhd. (Currently a consolidated subsidiary)
1984
July
Established Thai Takasago Co., Ltd. (Currently a consolidated subsidiary)
December
Newly established General Research Laboratory in Atsugi City. (Currently Technical Laboratory)
1987
January
Opened Yokohama Branch.
1989
April
Opened Hiroshima Branch.
1991
April
Opened Kanto Branch. (Closed in March 2011)
1994
March
Established Takasago Thermal Engineering (Hong Kong) Co., Ltd. (Currently a consolidated subsidiary)
1995
June
Established Takasago Philippines Inc. (Undergoing liquidation procedures as of the submission date)
2000
March
Established Takasago Maintenance Co., Ltd. (June 2008 Changed company name to Takasago Engineering Service Co., Ltd.) (October 2014 Closed due to absorption merger)
2003
July
Established Takasago Construction Engineering (Beijing) Co., Ltd. (Currently a consolidated subsidiary)
2005
April
Established Takasago Singapore Pte. Ltd. (Currently a consolidated subsidiary)
December
Received permission (revised) from the Minister of Land, Infrastructure and Transport (Special, General -17) No. 5708. (Permission renewed every five years thereafter)
2006
April
Opened Kanshinetsu Branch.
April
Established Industrial Air Conditioning Business Headquarters.
2007
April
Established Takasago Vietnam Co., Ltd. (Currently a consolidated subsidiary)
2008
October
Nippon Flect Co., Ltd. became a subsidiary by acquiring additional stock. (January 2009 Company name changed to Nippon Floda Co., Ltd.) (Currently a consolidated subsidiary, undergoing liquidation procedures as of the submission date)
2009
January
Opened Overseas Business Headquarters Abu Dhabi Branch. (Closed in March 2011)
2010
March
Abolished the listing of shares on the Osaka Stock Exchange.
2011
April
Introduced three Business Headquarters system (East Japan, West Japan, Engineering).
2012
February
Nihon Setsubi Kogyo Co., Ltd. made an equity method affiliate by acquisition of stock. (Currently equity method affiliate)
October
Marusei Service Co., Ltd. made a consolidated subsidiary by acquisition of additional stock. (Currently a consolidated subsidiary)
November
Established Takasago Engineering India Pvt. Ltd. (Currently a non-consolidated subsidiary)
2013
July
Established Green Air Plaza.
November
Established PT. Takasago Indonesia. (Currently a non-consolidated subsidiary)
2014
April
Developed the Long-term Business Framework "GReeN PR!DE 100" and Medium-Term Management Plan
June
Concluded an agreement on comprehensive cooperation with Nagaoka University of Technology.
July
Relocated Headquarters to Shinjuku-ku from Chiyoda-ku, Tokyo.
August
Concluded an agreement on comprehensive cooperation with Malaysia-Japan International Institute of Technology (MJIIT).
October
Marusei Service Co., Ltd. made a consolidated subsidiary through stock exchange. In addition, Marusei Co., Ltd. made the surviving company and established Takasago Marusei Engineering Service Co., Ltd by absorption merger with Takasago Engineering Service Co., Ltd. which was terminated.
2015
January
Promoted the International Division to the International Business Headquarters and established a four Business Headquarters system.
January
Relocated the Kanshinetsu Branch from Tokyo to Saitama Prefecture.
February
Established Takasago Engineering Mexico, S.A. de C.V. (Currently a consolidated subsidiary)
December
India-based Integrated Cleanroom Technologies Pvt. Ltd. made an equity method affiliate by acquisition of stock. (Currently a consolidated subsidiary)
2017
May
Concluded a business and capital alliance agreement with YAMATO Inc.
November
India-based Integrated Cleanroom Technologies Pvt. Ltd. made a consolidated subsidiary by acquiring additional stock (currently a consolidated subsidiary)
2018
October
Business partnership with Yamato Scientific Co., Ltd.
November
Kiyota Kougyo Co., Ltd. became a consolidated subsidiary
2019
March
Kazusa Environmental Research Center became a subsidiary
April
Implemented a new human resources system
December
Concluded a corporate partner contract with ispace, inc. for the "HAKUTO-R" commercial lunar exploration program
2020
January
Established the "Takasago Thermal Engineering Innovation Center" research and development center
April
Implemented the "CxO system"
August
Concluded a comprehensive partnership agreement with Tsukuba Mirai City in Ibaraki Prefecture