For Further Improvement
of Customer Satisfaction.
Under the management philosophy of developing
distinctive technologies that respond to customers' needs,
the Takasago Thermal Engineering Group promotes R&D
through its R&D Basic Policy.
Establishment of the Takasago Thermal Engineering Innovation Center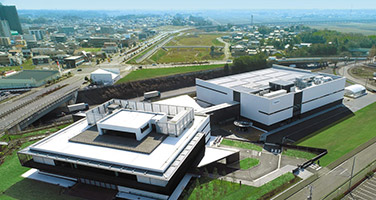 Takasago established the Takasago Thermal Engineering Innovation Center in Tsukuba Mirai City in Ibaraki Prefecture based on the concept of "A place of growth where diverse people gather and develop their dreams, a place of creation that connects knowledge and wisdom inside and outside the company, a place of dissemination to expand Takasago's technology to the world".
The center consists of an office building with a multi-purpose area, which contains an exhibition area and hall, and a work area, and a laboratory building, with demonstration rooms, laboratories, and research rooms. There is also an exhibition space and presentation room, which connect the two buildings. Based on the concept of workstyle reform we are working towards, the work area of the office building incorporates the functions of discussing, working, being solitary, being together, and relaxing into the layout, adopting an office design to create an environment that stimulates innovation and increases productivity.
Address
2-19 Fujimigaoka, Tsukuba Mirai City, Ibaraki Prefecture 300-2417
To visit
By car
15-minute drive from Yawara Interchange/Yatabe Interchange, Joban Expressway
By train
10-minute walk from Mirai-daira Station, Tsukuba Express Line